CM-10 current measure module
This module provides current measurements with near-zero input offset voltage from fA levels up to 100 mA from DC to 100 kHz, including amplitude, phase, and harmonic detection capabilities. The module also has configurable hardware and software filtering.
Current noise performance is on par with modern TIA and DC picoammeters, and the module also includes a programmable ±10 V voltage bias offset feature for materials or devices that require biased current measurements or operation, such as a photodiode.
CM-10 specifications
Specifications subject to change
Ranges: 100 mA, 10 mA, 1 mA, 100 μA, 10 μA, 1 μA, 100 nA, 10 nA, 1 nA; automatic transitions
Input offset voltage2: <150 µV
Settable bias voltage: ±10 V
Bias voltage settable resolution: 320 µV

Best sensitivity: <10 fA1
Hardware filters: LP—10 Hz, 30 Hz, 100 Hz, 300 Hz, 1 kHz, 3 kHz, 10 kHz (20 dB or 40 dB/decade); HP—10 Hz, 30 Hz, 100 Hz, 300 Hz, 1 kHz, 3 kHz (20 dB or 40 dB/decade); Modes—High reserve, Low-noise
Magnetic field exposure: Operational up to 3 mT DC
Size: 142 mm W × 39 mm H × 89 mm D (5.6 in × 1.5 in × 3.5 in)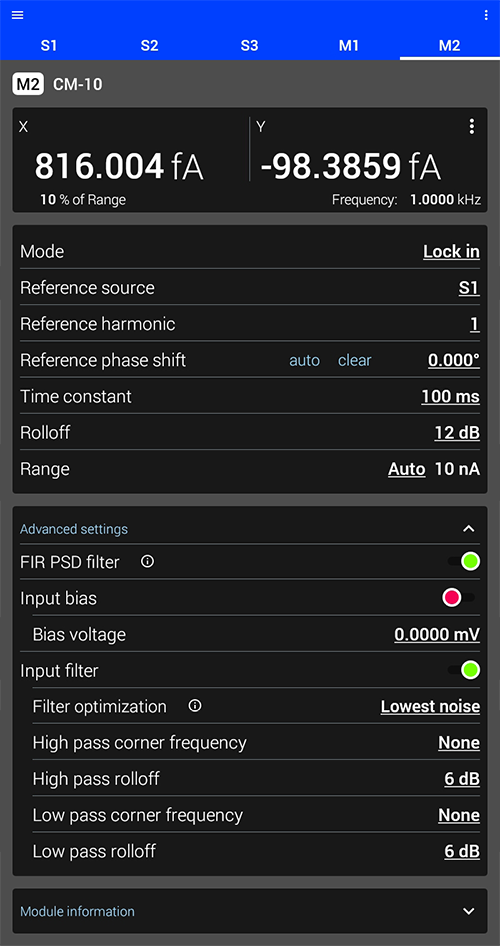 Options for the CM-10 module that you can set on the M81 instrument screen
Bandwidth/accuracy
Range
Bandwidth (-3 dB, typical)
Full accuracy
DC2
±(% rdg + A)
Lock-in2,3
±% rdg
Temperature coefficient2,3
±(% rdg/°C + A/°C)
100 mA
>100 kHz
1 kHz
0.05% + 1 µA
0.05%
5 ppm/°C + 10 nA/°C
10 mA
>100 kHz
1 kHz
0.05% + 100 nA
0.05%
2 ppm/°C + 5 nA/°C
1 mA
>100 kHz
1 kHz
0.05% + 10 nA
0.05%
2 ppm/°C + 20 pA/°C
100 µA
40 kHz
1 kHz
0.05% + 1 nA
0.05%
2 ppm/°C + 1 pA/°C
10 µA
8 kHz
500 Hz
0.05% + 500 pA
0.05%
5 ppm/°C + 1 pA/°C
1 µA
2.2 kHz
100 Hz
0.05% + 500 pA
0.1%
5 ppm/°C + 0.5 pA/°C
100 nA
450 Hz
20 Hz
0.05% + 10 pA
0.1%
5 ppm/°C + 0.5 pA/°C
10 nA
80 Hz
10 Hz
0.1% + 5 pA
0.5%
50 ppm/°C + 0.5 pA/°C
1 nA
80 Hz
10 Hz
0.1% + 5 pA
0.5%
50 ppm/°C + 0.5 pA/°C
Noise (typical)
| | | |
| --- | --- | --- |
| Range | Noise density4 | Noise at 0.1 Hz to 10 Hz4 |
| 100 mA | 2.6 nA/√Hz at 1 kHz | 35 nA RMS (175 nA p-p) |
| 10 mA | 250 pA/√Hz at 1 kHz | 4 nA RMS (20 nA p-p) |
| 1 mA | 30 pA/√Hz at 1 kHz | 350 pA RMS (1.75 nA p-p) |
| 100 µA | 3.5 pA/√Hz at 1 kHz | 30 pA RMS (150 nA p-p) |
| 10 µA | 500 fA/√Hz at 1 kHz | 4 pA RMS (20 pA p-p) |
| 1 µA | 70 fA/√Hz at 1 kHz | 400 fA RMS (2 pA p-p) |
| 100 nA | 13 fA/√Hz at 100 Hz | 60 fA RMS (300 fA p-p) |
| 10 nA | 4.3 fA/√Hz at 77 Hz | 16 fA RMS (80 fA p-p) |
| 1 nA | 4.3 fA/√Hz at 77 Hz | 16 fA RMS (80 fA p-p) |
DC input impedance
| | |
| --- | --- |
| Range | DC input impedance |
| 100 mA | 30 mΩ |
| 10 mA | 40 mΩ |
| 1 mA | 100 mΩ |
| 100 µA | 1 Ω |
| 10 µA | 6 Ω |
| 1 µA | 60 Ω |
| 100 nA | 500 Ω |
| 10 nA | 5 kΩ |
| 1 nA | 80 kΩ |
1 1 nA range, 10 s, 95% confidence interval
2 Total system accuracy, 1 year and ±5 °C from Lake Shore calibration; 24 h, ±1 °C from self‑calibration, 95% confidence, filters off
3 DC to full accuracy frequency
4 In Low noise mode; High reserve mode will have the noise of the next higher current range