The heart of the M81 SSM is the instrument. Depending on the model ordered, the instrument supports a total of 2, 4, or 6 channels comprising 1, 2, or 3 sources and 1, 2, or 3 measures respectively, as shown here:
| | | | |
| --- | --- | --- | --- |
| Instrument model | Maximum channel capacity | Number of source channels | Number of measure channels |
| M81-SSM-2 | 2 | 1 | 1 |
| M81-SSM-4 | 4 | 2 | 2 |
| M81-SSM-6 | 6 | 3 | 3 |
Each M81 instrument can manage from 1 to 3 source channels and from 1 to 3 measure channels per half-rack for testing of multiple DUTs during a single test sequence without adding complexity and signal degradation from signal switching.
More than one instrument can also be combined to further increase source and measure channel capabilities without degradation of analog performance while utilizing MeasureSync™ timing synchronization across all signal channels within the system.
Built on the MeasureReady™ instrument platform, the instrument features a graphical, touchscreen interface for both programming control and monitoring. Its ergonomically designed front panel features a TiltView™ display for best visibility, whether on a bench or mounted in a rack. It also supports standard LAN, USB, and GPIB communications.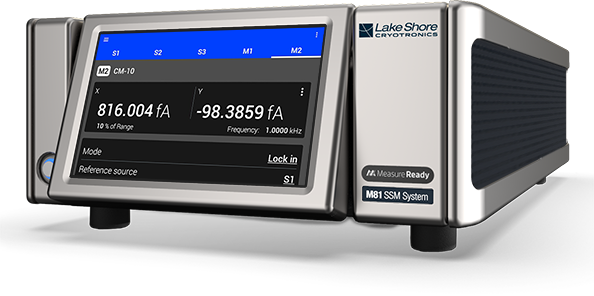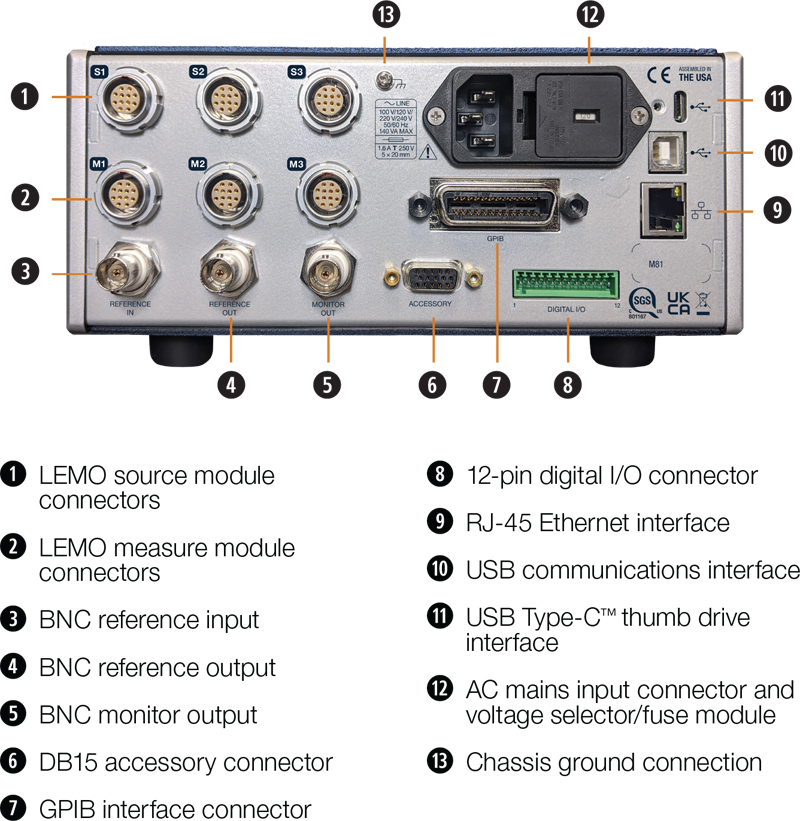 As easy to use as your smartphone

The M81 instrument front display has an easy independent setup of each module's output or input parameters, including range, amplitudes, frequencies, and filters. Each module has a full screen of controls on the M81, similar to the VM-10 screen shown here. The output settings or measure input data of each module are easy to manipulate (S1, S2, S3, M1, M2, or M3). The result is an easy setup to make and see measurement results. To collect several measurements over time as a source is ramped or an environment parameter is changed like temperature or field, Lake Shore created MeasureLINK software to control environmental or source parameters over time and capture the measurement data.
Made for the way you work today, the M81 features an uncluttered touch display with a unique TiltView™ screen, presenting a natural and engaging user interface.
With no confusing buttons or long learning curves, the M81 is intuitive and straightforward to operate. You'll quickly recognize the icons, gestures, and menu styles that follow familiar smartphone technology standards.