MeasureReady®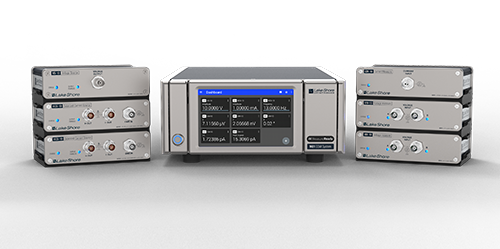 Unique real-time sampling architecture for synchronous sourcing and measuring

MeasureSync™ technology for simultaneous source module update and measure module sampling timing across all channels
DC/AC amplitude and phase detection is user-selectable on all measure channels
Common DAC/ADC sampling clock ensures highly precise and consistent source/measure timing coordination between 3 sources and 3 measures
Designed for scientific-grade low-level measurement applications

100% linear module power supply architecture for lowest possible source/measure noise
Fully linear signal path between data converters, modules, and the device under test (DUT)
Remote modules for the shortest possible signal path to the DUT, which separates sensitive analog circuits from digital circuits and unwanted sources of interference typical of traditional single-enclosure instrument designs
The absolute precision of DC plus the detection sensitivity performance of AC instrumentation

All source and measure channels are capable of DC and AC to 100 kHz signals
Optimized for fundamental, harmonic, and phase AC plus DC biased measurements
Modularity allows for flexible, user-configured modules to suit a specific application
Unique, flexible instrument/distributed module architecture

Remote-mountable amplifier modules are interchangeable between instruments
Modules are dynamically recognized when the system is reconfigured
Uses a clean, simple UI and a common programming API for fast setup and a shorter learning curve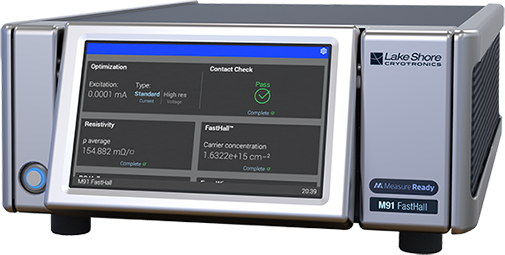 A new approach to Hall measurement
The MeasureReady® M91 is a revolutionary, all‑in-one Hall analysis instrument that delivers significantly higher levels of precision, speed, and convenience to researchers involved in the study of electronic materials.
Featuring Lake Shore's patented* new FastHall measurement technique, the M91 fundamentally changes the way the Hall effect is measured by eliminating the need to switch the polarity of the applied magnetic field during the measurement. This breakthrough results in faster and more precise measurements, especially when using high field superconducting magnets or when measuring very low mobility materials.
*Protected by US patent number 9797965. Other patents pending.
Simpler and more convenient

All-in-one instrument

Automatically selects optimal excitation and measurement levels

Automatically executes measurement steps

Provides complete Hall analysis

Easy to use, easy to integrate with existing lab systems

Makes better measurements, faster

No need to reverse the magnetic field with FastHall

Up to 100× faster for low mobility materials

Improves accuracy by minimizing thermal drift

Cost-effective

Build a new Hall system or upgrade an existing one

Add state-of-the-art Hall measurement capability to any lab

Use with any type of magnet
Watch the demo video: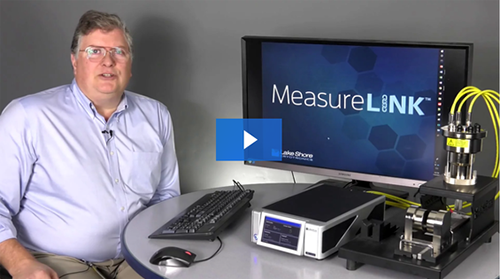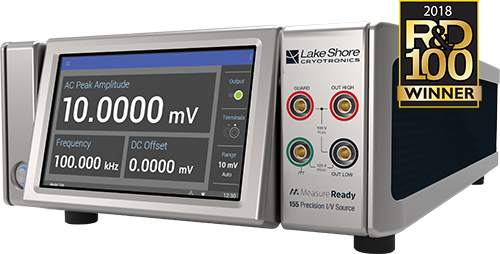 MeasureReady® Low-Noise DC and AC/DC 155 Voltage and Current Source Features
Low RMS noise: from 200 nV (10 mV)/7 pA (1 µA)

Bipolar, 4-quadrant power source

DC and AC modes supported up to 100 kHz*

Full-scale ranges—voltage: 10 mV to 100 V, current: 1 µA to 100 mA

0.001% programming resolution (from 100 nV/10 pA)

In-phase reference output for use with a lock-in amplifier (155-AC only)

Manual and autorange function

Front and rear input connectors

Touchscreen user interface

USB and LAN connectivity (GPIB option)

3-year standard warranty
*MeasureReady 155-AC
We appreciate your patience while we rebuild our online shopping portal. Please contact us directly to place an order.