GPIB adapter
Product description
GPIB interface to Lake Shore MeasureReady instruments via standard rear panel USB-C port
Designed to work specifically with Lake Shore MeasureReady and teslameter instruments
Supports maximum serial transfer capabilities of each supported Lake Shore instrument
Address easily set up from the instrument front panel interface, with other GPIB parameters displayed
2-year standard warranty
Key features
Plug and play connection and setup with Lake Shore instruments from touch screen front panel interfaces
IEEE-488.2 compatibility includes local and remote front panel lockout modes and standard CR, LF, and EOI terminators
LED status indicator shows data transfer and connection status at a glance
Thumb screw-style strain-relieved USB-C cable prevents accidental disconnection from instrument or adapter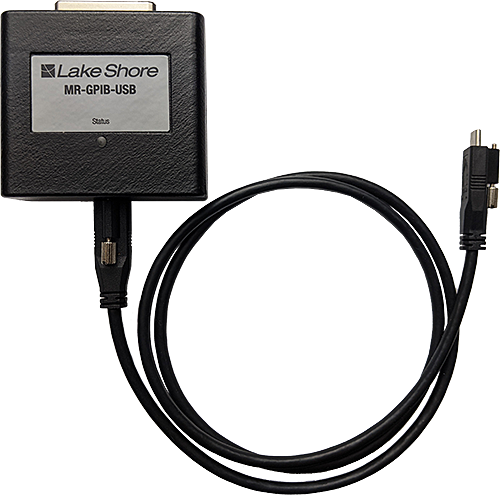 Minimum requirements
The adapter is currently only compatible with the 155 precision current source, the M91 FastHall controller, and the F71/41 teslameters. The minimum OS and firmware requirements are listed below.
OS/firmware
Latest version
Release date
Size
Download
Operating system
(all applicable instruments)
2.6.4
2020-09-29
272 MB
155 firmware
1.4.2021062301
2021-07-14
44 MB
Model_155.lsfw
M91 firmware
1.6.2021010603
2021-02-04
45 MB
fasthall.lsfw
F71/41 firmware
1.8.2021062806
2021-07-14
44 MB
F41_F71.lsfw
Specifications
Data throughput: Limited to 3 megabit rate between adapter and host instrument
Valid accepted terminators: Lf, CrLf, LF +EOI, CrLf + EOI, EOI
Generated response terminator: CrLf + EOI
IEEE-488.2 capabilities: SH1, AH1, T5, L4, SR1, RL1, PP0, DC1, DT0, C0, E1
LED annunciator:
Slow blink: Power applied, awaiting initialization from host instrument
Solid: host instrument initialization complete, ready for GPIB comms
Fast blink: data being exchanged between GPIB bus and host instrument
Primary address range: 0 to 30
Connector: IEEE-488 24-pin receptacle with M3.5 jack screws
Host instrument connectivity: USB Type-C™ cable with single screw lock, 1 m length
Dimensions: 110 mm × 67 mm × 28 mm (4.3 in × 2.6 in × 1.1 in)
Weight: 142 g (5.0 oz), includes weight of supplied USB cable
Power dissipation: 1 W steady-state, typical
Operating ambient temperature: 0 °C to 40 °C and <70% relative humidity non-condensing
Approval: CE mark
We appreciate your patience while we rebuild our online shopping portal. Please contact us directly to place an order.