More about the 240 Series
Intuitive module configuration
The Lake Shore MeasureLINK™ software allows a streamlined configuration experience for all 240 Series input modules. Connecting directly to the module through the USB port provides immediate access for MeasureLINK and allows complete configuration of the module in just a few minutes.
MeasureLINK™ provides access to:
Module configuration (communications settings and module maintenance)

Input configuration (sensor calibration curve loading and other measurement settings)

Live measurement readings for all module inputs simultaneously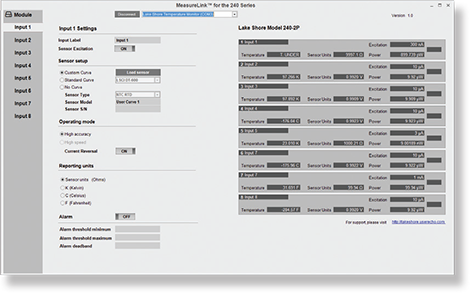 Convenient OLED display
The built-in OLED display in every 240 Series input module allows immediate verification that a module is operating correctly by displaying temperature conversion values or error states if something is not operating as intended.

User-friendly sensor wiring
Pluggable terminal blocks provide an easy way to pre-terminate sensor wire to the included connectors before plugging them into the input module. Sensor maintenance or replacement is also made easier using these connectors, particularly if the remaining sensors on the module must remain live while another sensor is replaced.

Extended sensor wire lengths

An unfortunate characteristic of many high-energy physics facilities is the level of radiation generated by the machine during operation. Lake Shore Cernox® sensors are designed to tolerate this radiation, however, electronic devices require protection from this radiation. Lake Shore's 240 Series modules facilitate this requirement by allowing extremely long sensor cabling to be employed between the sensor and input module. See the Long Sensor Cable Considerations application note for additional information on this topic.