PS-HM-8425 Hall Measurement Package for the CRX-VF Probe Station
We appreciate your patience while we rebuild our online shopping portal. Please contact us directly to place an order.
Easily add Hall measurement capabilities to your probe station
A complete solution for enabling 8400 Series Hall measurement in your CRX-VF station

Supports a range of DC Hall measurements on wafer-scale materials and structures as a function of temperature and field

Includes all the instrumentation and software for facilitating Hall measurements

Supports DC fields to 2 T and resistances from 0.5 mΩ to 100 GΩ

Intuitive software provides easy system operation, data acquisition, and analysis

Supports exporting of data for multi-carrier analysis

3-year standard warranty
The power of the Hall measurement software
The solution adds several instruments to your CRX-VF console, including a switch matrix, current source, and voltmeter. However, the real power is provided in the 8400 Series HMS software, which is on a PC that ships with the package.
This next-generation Hall measurement software enables easy system operation, provides a suite of data acquisition and analysis tools, and allows you to control field, sample temperature, and sample excitation while running Hall measurements in an automated fashion.*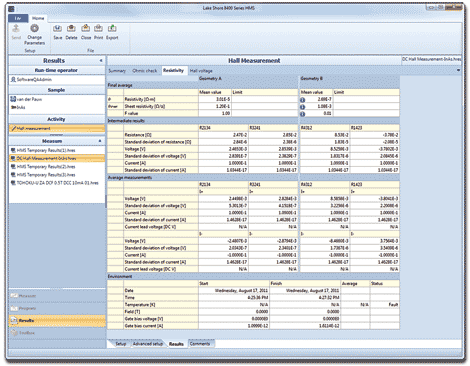 Example of a 8400 HMS measurement results screen
Notable software features:
Supports van der Pauw and Hall bar measurements, and measuring samples with gated Hall bars to account for gate bias—ideal for device-level material measurement.

Create a variable temperature Hall measurement with just three clicks of a mouse.

Start and end a measurement at your convenience, as well as set up time loops to repeat measurements according to a schedule.

Easily insert a resistance measurement into a Hall measurement sequence.

Use quick commands to "Go to Temperature," "Go to Field," "Go to GBV" (gate bias voltage), and "Wait," to let the system pause and settle before continuing.

Perform resistance measurements at the start of an experiment—very useful when you need to do a quick, initial sample check to determine usable current, for instance.

Supports data export for multi-carrier analysis.
*Manual adjustment of the probe station's heat switch is required at several temperature points.
More about the 8400 Series software