Two-stage pulse tube cryocooler
RP-062B (0.5 W at 4.2 K) and RP-082B (1.0 W at 4.2 K)
Sumitomo Heavy Industries has expanded its product line yet again with the addition of a two-stage pulse tube cooler. With a base temperature of below 3.0 K, this new product extends the range of possible applications for Sumitomo closed-cycle refrigerators to include low-temperature, low-vibration applications. The pulse tube cooler has no internal moving parts, therefore it has inherently low vibration levels.
Standard configuration
Characteristics:
Refrigeration capacity: 0.5 W at 4.2nbsp;K (RP-062B); 1.0nbsp;W at 4.2nbsp;K (RP-082B)
Orientation: vertical only
Push-button operation
Applications:
Laboratory cryostats
Cryogenic property measurements
Optical studies
Magnetic studies
Low-vibration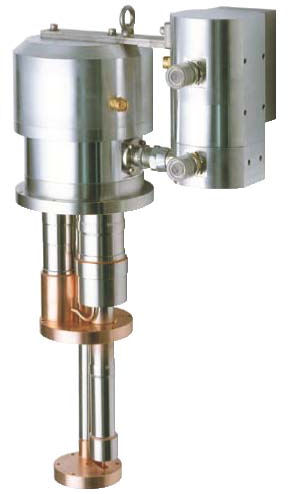 Two-stage pulse tube cryocooler specifications
RP-062B
RP-082B
Refrigeration cycle
Pulse tube (2-stage)
Pulse tube (2-stage)
Refrigeration capacity (vertical position)
1st stage: 30 W at 65 K (50/60 Hz)
2nd stage: 0.5 W at 4.2 K (50/60 Hz)
1st stage: 40 W at 45 K (50/60 Hz)
2nd stage: 1.0 W at 4.2 K (50/60 Hz)
Orientation
Vertical only
Vertical only
Lowest temperature
<3.0 K
<3.0 K
Vibration level
±4 µm at 2nd stage flange
1st stage: ±7 µm; 2nd stage: ±9 µm
Weight
23.2 kg
26 kg
Cold head dimensions (mm)—approximate
336 W × 190 L × 604 H
190 W × 347 L × 581 H
Cooldown time (to 4.2 K)
<100/90 min (50/60 Hz)
<80 min (50/60 Hz)
Maintenance
Every 20,000 h
Every 20,000 h
Compatible compressor unit model
F-50
F-70
Flexline length
20 m*
20 m*
Flexline weight
7.5 kg per line
7.5 kg per line
*Buffer tanks + 6 m lines may optionally be substituted for the 20 m long lines. 6 m lines weigh 5 kg per line.
Specifications subject to change without notice.
Download the Sumitomo's SRP-062B Pulse Tube Datasheet