We appreciate your patience while we rebuild our online shopping portal. Please contact us directly to place an order.
ST-500 microscopy cryostat
The Lake Shore ST-500 continuous flow cryostat has been specially designed for use in microscopy, imaging, and high spatial resolution photoluminescence. The combination of the low thermal-expansion support structure and internal vibration isolation results in nanometer-scale vibration and drift levels. The cryostat geometry offers a short working distance (for use with high magnification optics) and permits mounting on common microscope stages and translators.
Standard configuration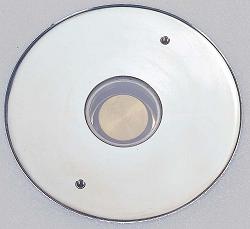 The ST-500 system includes a flexible high-efficiency variable flow cryogen transfer line. This line delivers liquid helium or liquid nitrogen to a two-stage heat exchanger and sample mount. The ST-500 is portable, easily mounted in a variety of configurations, and can be used both in transmission and reflection geometries.
Other configurations include:
Options for micro-spectroscopy techniques
Nano-positioning stages
Sample extension for magnetic measurements
Breakout box accessory for electrical measurements
Ultra-high vacuum
Superconducting magnet for high-resolution microscopy
Micro-manipulated cryogenic and vacuum probe system for chips, wafers, and device testing
Options include:
A variety of window materials and sizes
Interchangeable sample mounts for different sample thicknesses
Magneto-optical system (including optional rare earth magnets)
Electrical and RF feedthroughs
A complete system solution including temperature controllers, pumping systems, and storage Dewars
Looking for a cryogen-free option for your existing ST-500? Optional recirculating gas cooler eliminates the use of liquid helium for "wet" systems.
Contact us today!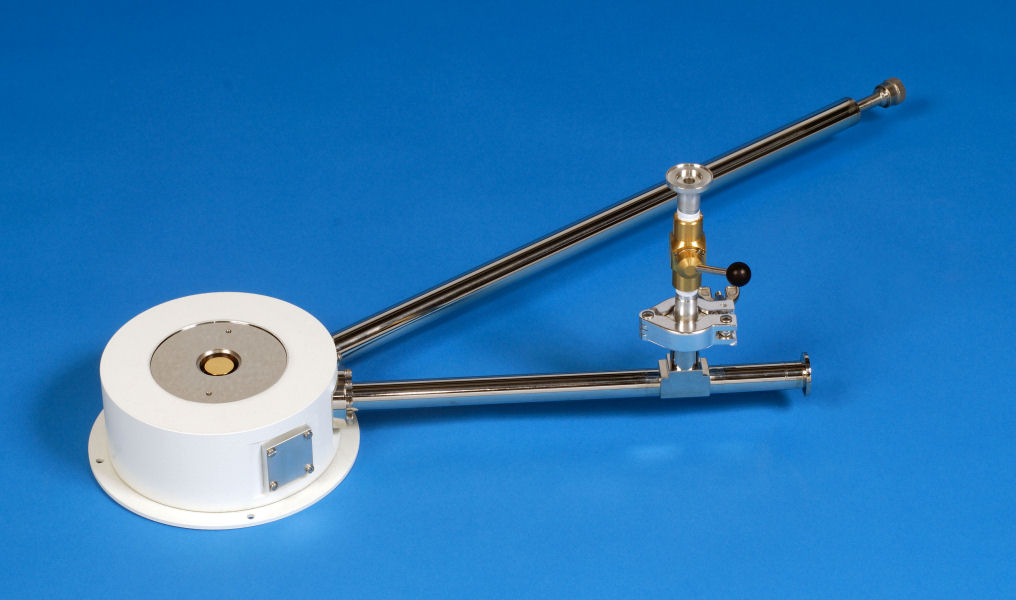 ST-500 specifications
Temperature range
3.5 to 475 K (standard)
Initial cooldown time
10 K (LHe): 25 min
80 K (LN2): 30 min
Cryogen usage during cooldown to 4.2 K
1 L LHe
0.3 L LN2
Temperature stability (with temperature controller)
<50 mK
Weight (not including transfer line)
7 lb (3.2 kg)
Nominal cryogen usage
LHe at 5 K: ~1.1 L/h
LN2 at 80 K: ~0.1 L/h
Nominal vibration amplitude†
±15 nm
Positional drift‡
±10 nm in 5 min
±60 nm in 30 min
NOTE: Specifications do not include optical or experimental heat loads and assume horizontal orientation. Specifications may change depending on the length of the transfer line flexible section.
†Vibrational amplitude measured while on an isolated optical table. Results may vary depending on experimental conditions.
‡Data courtesy of B. B. Goldberg and M. S. Unlu, Departments of Physics, ECE and Photonics Center, Boston University.
Vibration measurements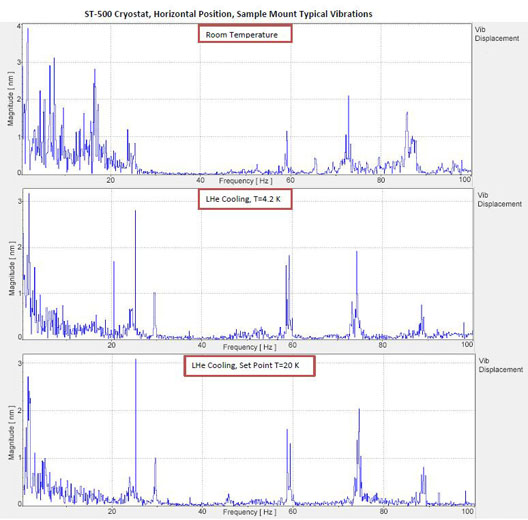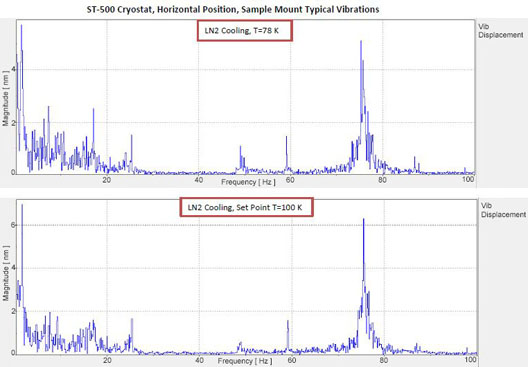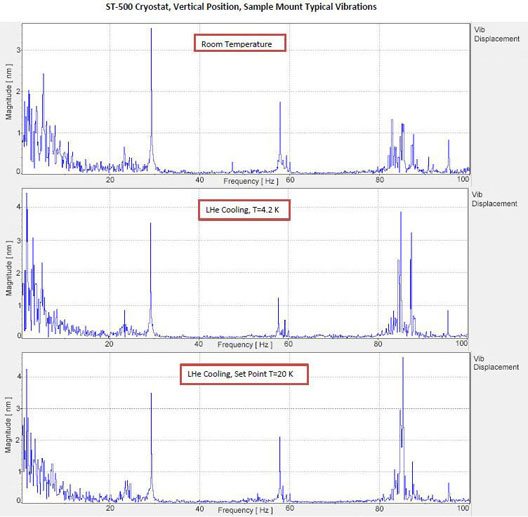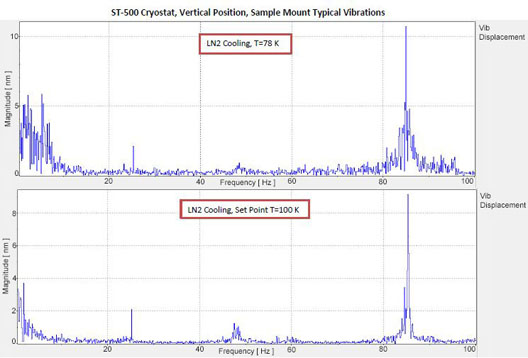 Long-term drift data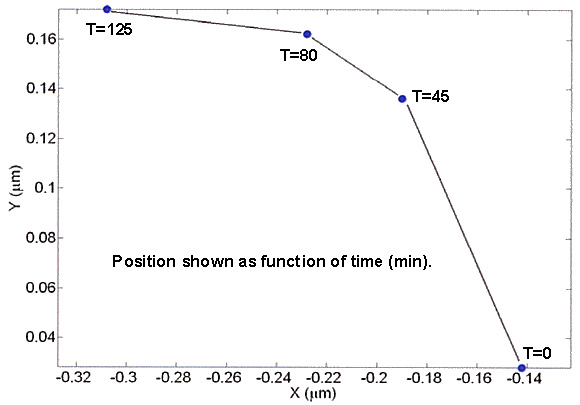 ST-500 long term drift data from University of Oxford, Janis Research, cryogenics
Data taken by K.H. Lee (University of Oxford)
The Taylor group at the University of Oxford has performed some characterization of the ST-500 cryostat drift. The characterization is based on the tracking of a single QD over time, and test results indicate a typical positional drift of about 2 nm/min.
Reference: K. H. Lee, et al, "Registration of single quantum dots using cryogenic laser photolithography" Appl. Phys. Lett., 88, 193106, 2006.
Other configurations