4 K Cryocoolers — SHI 1.5 W at 4.2 K
These Sumitomo RDK-415D systems provide 1.5 W of cooling at a temperature of 4.2 K at the second stage and can reach a minimum temperature of 3 K (with no parasitic or experimental heat loads). Compact water- or air-cooled compressors and 20 m long flexible gas lines complete the refrigerator package. (Please see our compressors page for more information.) Designs incorporating both refrigerator and cryostat are available for a variety of applications.
Standard configuration
Characteristics:
Larger capacity of 1.5 W at 4.2 K
Orientation independent
Push-button operation
Download the RDK-415D drawing and typical load map (224 KB).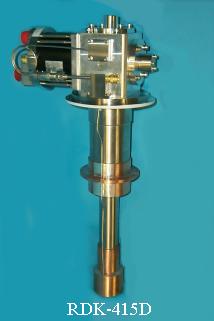 Cold Head Model RDK-415D Specifications
Refrigeration cycle
Modified Gifford-McMahon
Refrigeration capacity
(Vertical Position)
50 Hz
1st stage: 35 W at 50 K; 2nd stage: 1.5 W at 4.2 K
60 Hz
1st stage: 45 W at 50 K; 2nd stage: 1.5 W at 4.2 K
Orientation
Any — cooling capacity loss: maximum 15%
Weight
Approximately 18.5 kg
Dimension
180 D × 294 L × 557 H (mm)
Maintenance interval
10,000 h
Flexline length
20 m*
Flexline weight
7.5 kg per line
Compatible compressor unit model
CSA-71A, F-70L, F-70H
* Buffer tanks + 6 m flexlines may optionally be substituted for the 20 m long lines. 6 m flexlines weigh 5 kg per line.
Specifications subject to change without notice.