4 K cryocoolers — sample in vacuum systems (SHI-4 Series)
Lake Shore SHI-4 series cryostats are among the most versatile systems available for laboratory sample cooling. They are equipped with interchangeable optics and include provisions for a wide variety of electrical connectors. Tapped holes on the vacuum shroud and a sturdy mounting flange provide for convenient mounting in any orientation.
Standard configurations
These cryostats are designed for measurements to 325 K, and optional configurations permit operation to 500 K or 800 K (with special thermometry).
Optimized for experiments requiring optical access to the sample, these systems include the following components:
Optical vacuum shroud and radiation shield
Four o-ring sealed quartz windows
Gold-plated OFHC copper sample holder
10-pin electrical feedthrough, with three spare electrical access ports
Evacuation valve and safety pressure relief valve
Silicon diode thermometer and control heater
Easily removable window block with an o-ring seal located just above the windows (SHI-4-2 and SHI-4-5 systems only
Available options:
Additional electrical feedthroughs (BNC, SMA, multipin, and others)
Rotatable vacuum shroud
Rotation and positioning stages
Matrix isolation configuration
Fifth window port
Radiation shield windows
Specially modified window block with a larger window as an option (SHI-4-x)
IR and other window materials
Custom designed vacuum shroud
500 K & 800 K high-temperature systems available on most models (800 K with special thermometry)
Non-optical configurations
Compact vacuum shroud (for use with electromagnets)
Large sample volume configuration
Standard models include:
("X" indicates the cooling power of the refrigerator)
SHI-4-X (optical)
SHI-4T-X (non-optical)
SHI-4S-X (sub-compact)
SHI-4XG-X (low-vibration interface)
CCR4-MMP (cryogen-free probe station)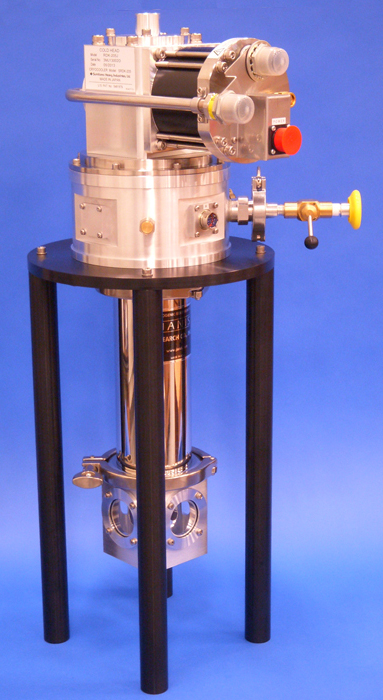 Specifications
(including radiational heat load)
SHI-4-2
SHI-4-5
SHI-4
SHI-4-15
Temperature range
<4 K* to 300 K
<4.5 K to 325 K
<4 K to 325 K
<4 K to 325 K
Initial cooldown time
<120 min to 5 K at 60 Hz
<150 min to 5 K at 50 Hz
~70 min to 4.5 K
60 min to 4 K
60 min to 4 K
Cold head cooling power
0.13 W at 4.2 K
(50 Hz)
0.2 W at 4.2 K
(60 Hz)
0.7 W at 4.2 K
1 W at 4.2 K
1.5 W at 4.2 K
Cryostat weight
36 lb
53 lb
62 lb
63 lb
Compressor cooling
Air or Water
Water
Air or Water
Air or Water
* With four open radiation shield ports, f1 view angle.
NOTE: 500 K and 800 K versions available on most models.
Other configurations
Special designs include:
Pulse tube-based systems
Specialized for neutron scattering and diffraction applications