10 K Cryocoolers — Sumitomo (SHI) HC-4E1 Compressor Unit (Water-cooled)
The HC-4E1 water-cooled compressor is compatible with the Model 202 and 204 cold head systems.
Standard configuration
Key features:
Hermetically sealed, rotary compressor design
Specifically designed for helium service
Refined oil and gas management
Highly reliable design
ON and OFF buttons for local operation of the compressor and cold head
Automatic restart after power interruptions
Front panel LCD display of elapsed run time
Automatic relief from an over pressure condition
Easy access as all utilities are located on front panel
CE approved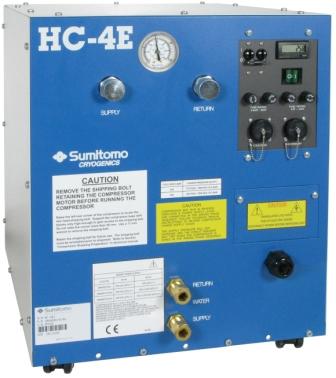 HC-4E1 Specifications
Electrical power†
1-phase; 200, 230/240 V, 50 Hz; 208/230 V, 60 Hz
Ambient temperature‡
4 to 40 °C (40 to 104 °F)
Minimum cooling water requirement and temperature range*
2.7 L/min (0.7 gal/min); 4 to 27 °C (40 to 80 °F)‡
Weight and dimensions
75 kg (165 lb)
82 kg (180 lb) (with transformer)
504 mm × 430 mm × 485 mm
(19.8 in × 16.9 in × 19.1 in) H × W × D
Maintenance interval/adsorber exchange
30,000 h
†Power may differ depending on the cold head to be used.
‡Cooling capacity may degrade if ambient temperature is above 28 °C. Refer to cold head specification chart.
*Cooling water volume may differ depending on its temperature.
Specifications are subject to change without notice.