The standard module
Standard insert
The standard insert provides physical mounting and electrical connection to the sample card. The standard insert is compatible with the standard light tight body and optical access body for operation at room temperature and the optional Model 84015 single point LN2 body for operation near 77 K. It includes eight triaxial connectors for guarded signals to the sample for resistance measurements up to 200 GΩ depending on your system's configuration. Its circular connector contains temperature monitor leads, insert identification, and safety interlock. The standard insert is compatible with a variety of standard and optional sample cards depending on whether it is used with the light tight body or single point LN2 option.
Light tight body
The light tight body serves as a support for the standard insert, allows for consistent sample alignment, and provides a light tight environment for samples that are light sensitive.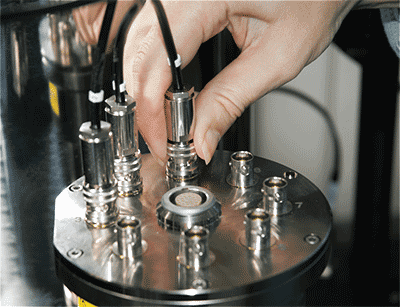 The triaxial cables being attached to the standard insert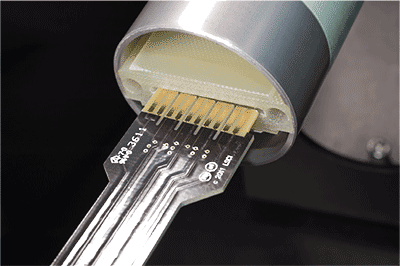 Sliding a sample card into the standard insert

Sample mounting accessories
A variety of sample cards are available for the standard insert to facilitate sample mounting and storage as well as expedite sample exchange. Standard plug-in sample cards allow mounting of up to a 10 mm sample. An optional card can accommodate up to a 50 mm sample. The 10 mm sample cards are available in prober pin or solder pad style while the 50 mm sample card is available in prober pin style only. The prober pin style sample cards allow you to mount your samples without requiring contact pad soldering.
Even subtle changes in room temperature can sometimes influence your measurement results. As such, our sample cards are available with an integrated platinum RTD to ensure you get the most information out of your measurement. When used in combination with the temperature monitor or control options, you can log and record small fluctuations in sample temperature, helping you gain the most knowledge of the materials you are studying.
Available sample cards and kits include:
EMP-HP-SC-10-P: 10 mm prober pin sample card with PT sensor for use with standard insert; compatible with 840-VTA and 841-STM
840911: 50 mm prober pin sample card kit for use with standard insert; includes 50 mm prober pin sample card with PT sensor and required guide stem; compatible with 840-VTA and 841-STM. NOTE: not compatible with temperature (84015, 84016, 84017) options; can use with sample rotation (84010) option installed, but sample cannot rotate
840930: Sample mounting kit for use with standard insert: includes (4) 10 mm solder pad sample cards, (1) 10 mm solder pad sample card with PT sensor, copper wire, and indium foil; (1) included with purchase of 8404; compatible with 840-VTA and 841-STM
EMP-HP-SC-10-S: Sample card; 10 mm (0.4 in) solder pads with PT sensor for use with MCS-EMP-HP-SI insert; sample limited to 10 mm × 10 mm square; compatible with 840-VTA and 841-STM; pack of 5
50 mm prober pin sample card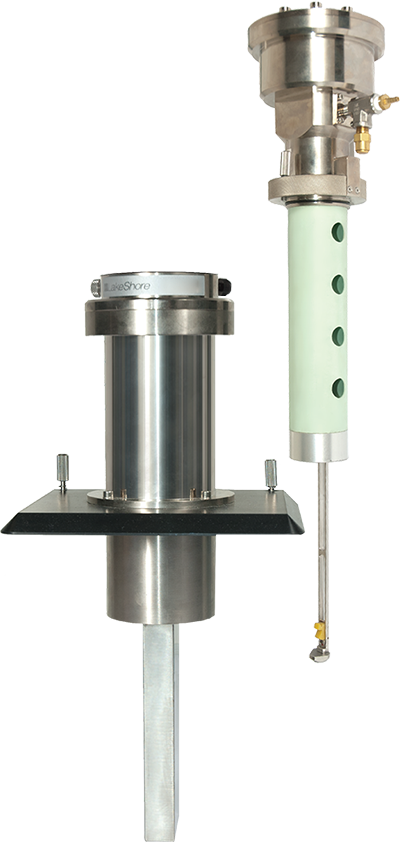 10 mm solder pad sample card

10 mm prober pin sample card

Field calibration card
(included with system purchase)