Chart Recorder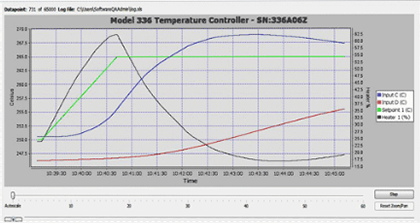 The Lake Shore Chart Recorder is a general charting and logging software tool designed to work with several Lake Shore temperature instruments via USB, serial, GPIB, or Ethernet.
Version: 1.2.1
Publisher: Lake Shore Cryotronics, Inc.
Supported operating systems: Windows Vista and newer
Supported instruments: Model 218, Model 224, Model 331; Model 332, Model 325, Model 335, Model 336, Model 350, Model 370, and Model 372
Click to launch and install via Java Web Start:

The following prerequisites are required:
Download the Java executable (JAR) file directly
NOTE: When using GPIB, Java only works in 32-bit.
Installing issues
If the application does not install and place shortcuts on your desktop when you launch, you can do the following:
Open the Windows Control Panel > Java
Under the General tab, under Temporary Internet Files, click View…
Select Applications from the Show drop-down box
Right click the Lake Shore Chart Recorder application, and select Install Shortcuts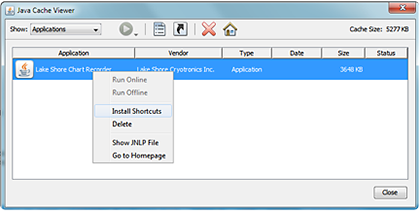 Display issues
If you are using a high resolution device and having display issues, you will need to change the properties of your java.exe, javaw.exe, and jp2launcher.exe files.
Right click and go to Properties> Compatibility> Settings of each of the three files and check the Override High DPI Scaling Behavior box, changing the drop-down underneath to System.