STVP-100 optical cryostat
Optical continuous flow cryostats with three standard sizes available, although, as with all Janis systems, these systems can be customized to suit your experiment. Systems with a 1.5 in sample space are in stock for fast delivery.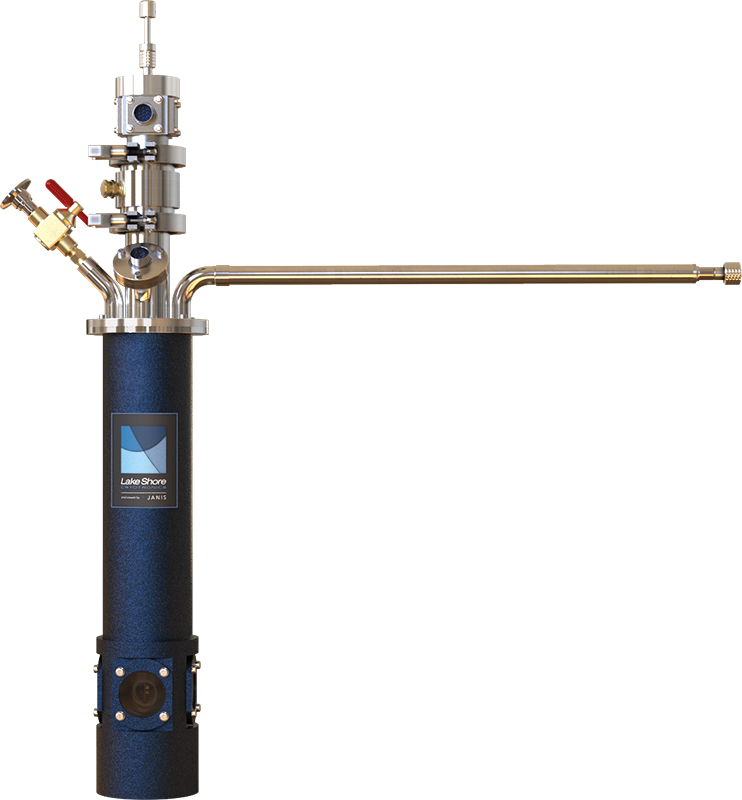 Standard configuration
Designed for experiments requiring optical access to the sample, the STVP-100 includes the following components:
Optical vacuum shroud
Optical radiation shield
Four quartz window sets
Optical sample holder
Temperature sensor
Pressure relief valve
Sample positioner with one 10-pin and one 8-pin electrical feedthrough
6 ft superinsulated cryogen transfer line
Control heater
System test
Typical applications
Contact us today!
STVP-100 specifications
Temperature range
<2 to 325 K (contact us for other temperatures)
Initial cooldown time
15 min (STVP series: 100 to 400)
30 min (STVP-NMR)
Nominal temperature stability (with controller)
50 mK or less
Orientation
Vertical for <4.5 K
System weight (without transfer line)
15 lb (6.8 kg)
Cryogen consumption on cooldown
0.5 L LHe (325 - 4.2 K)
Nominal cryogen consumption rate
1.3 L/h LHe (5 K) (STVP-100 [1,2,3] and STVP-200 [1,2,3])
1.4 L/h LHe (5 K) (STVP-NMR)
NOTE: Specifications do not include optical or experimental heat loads and assume vertical orientation.
NOTE: Contact us for high temperature or LN2 operations for SuperTran-VP.
Typical cryogen consumption of optical SuperTran cryostats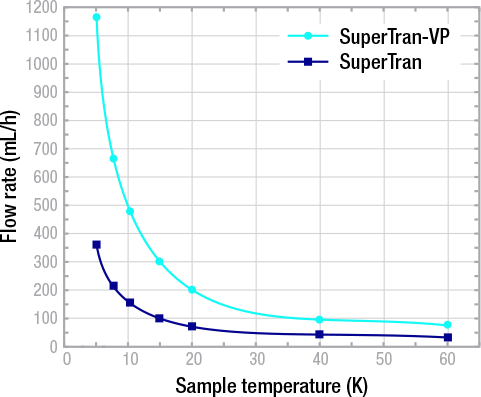 Other configurations
Compact vacuum shroud
Customized window materials
Indium-sealed cold windows
Customized vacuum shroud lengths
Large diameter sample space
Spectrometer mounting flange
Isothermal zone sample tube (provides uniform sample temperature and enhanced operation with LN2)