ST-100-FTIR cryostat for Fourier transform infrared spectroscopy
The ST-100-FTIR cryostat is similar in operation to the standard SuperTran (ST-100) cryostats. To the basic design, we have added a multiple-position sample holder and precision linear manipulator, allowing a reference plus two samples to be loaded at any one time. Samples may also be rotated.
As with all Lake Shore cryostats, modifications may be made to the standard design in order to ensure a match with existing equipment. For example, the footprint of the cryostat may be reduced, or the number of sample positions increased.

Standard configuration
Standard ST-100-FTIR features include:
Sample in vacuum
Multiple position sample holder
Linear manipulator with 2 in travel
Sample rotation with scale
Silicon diode temperature sensor
Mounting flange to fit spectrometer
High-efficiency cryogen transfer line
1.63 in diameter clear view window ports
O-ring sealed windows for easy window change
Liquid helium or liquid nitrogen cooling
Options include:
Remotely controlled linear manipulator and/or rotary stage
IR window materials, wedged or plane parallel
Compact design for a reduced cryostat footprint
Electrical access to the sample
A complete system solution including temperature controllers, pumping systems, and storage Dewars
High-temperature operation
Contact us today!
ST-100-FTIR specifications
Sample environment
Vacuum
Temperature range
~2.5 K to 325 K (higher temperatures optional)
Initial cooldown time
15 min to 10 K
Nominal temperature stability (with controller)
50 mK or less
Orientation
Any position
System weight (without transfer line)
~10 lb (4.6 kg)
Cryogen consumption on cooldown
0.4 L LHe (325 K to 4.2 K)
Nominal cryogen consumption rate
0.6 L/h LHe (5 K)
NOTE: Specifications do not include optical or experimental heat loads. Specifications may change depending on the length of the transfer line flexible section.
Optional configurations
Model ST-100-FTIR special with automated linear and rotary motion (Thermo Nicolet)
Pictured is a model ST-100-FTIR configured for use in conjunction with a Thermo Nicolet Nexus 8700 FTIR spectrometer. The system uses a standard Nexus 8700 mounting plate, modified to match the cryostat vacuum shroud. Use of the standard Nexus mounting plate allows for easy integration of the cryostat and spectrometer. A specially configured two-piece, three-position sample holder is supplied with the system.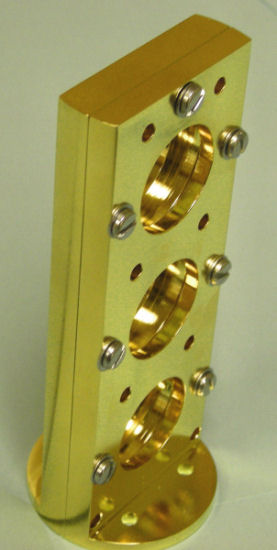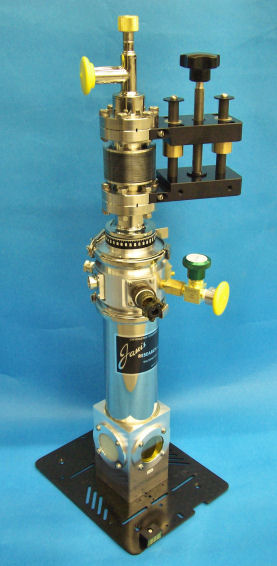 ST-100-FTIR for use in Bruker Vertex 80V spectrometer
The ST-100-FTIR shown is for use in a Bruker Vertex 80V spectrometer. The mounting flange for the spectrometer has two parts (one part not shown). The system has a motorized linear positioner installed along with a special 2-position DLTS sample holder.