Applications | Deep level transient spectroscopy (DLTS)
Cryostats and sample holders for fixed-position probe measurements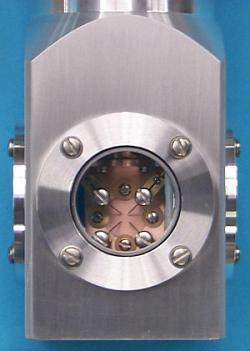 Lake Shore offers sample holders with up to four fixed-position tungsten probes installed for the electrical measurement of samples without the need for permanent contacts. This design is suitable for measurements in temperatures as high as 800 K and may be ordered wired to the feedthrough type of your choice, including multi-pin, BNC, or SMA. Originally designed for DLTS applications, the sample holder is suitable for any kind of measurement where permanent electrical contacts are undesirable.
This photograph shows a sample holder set up for four-point measurements. A non-electrically conductive mounting surface is provided, and the probes have a limited range of movement for fine-scale positioning when the sample is warm.
This sample holder may be used with any of our standard laboratory cryogenics products, in particular the VPF-100H (liquid nitrogen cooled pourfill cryostat with sample in vacuum), ST-100 (liquid helium-cooled continuous flow cryostat with sample in vacuum), and CCS-400 (10 K closed-cycle refrigerator with sample in vacuum).
Contact us for further details and pricing information.