4 K cryocoolers — sample in static exchange gas (SHI-950 and SHI-850 Series)
Lake Shore exchange gas systems offer two main advantages to the experimenter: rapid sample exchange while the refrigerator is operating, and efficient cooling for non-conductive or irregularly shaped samples not easily clamped to a cold finger (e.g., powders, liquid solutions, etc.). These advantages are made possible by using the refrigerator to cool a column of helium exchange gas surrounding the sample. The sample is inserted, via a long rod, into a nearly isothermal region of the gas column for cooling. Sample exchange by simply removing the sample rod, switching samples on the rod, and reinserting the rod into the cryostat. The entire sequence takes only a matter of minutes and is performed while the refrigerator is operating. Thus the time to cool successive samples is greatly reduced as compared with a sample in vacuum cryostat.
Standard configuration
The cooler is mounted above the sample chamber in these cryostats. This design permits the sample region to be inserted into the sample chamber of a spectrometer or the room temperature bore of a superconducting magnet.
Optimized for experiments requiring optical access to the sample, the SHI-950 and SHI-950-5 systems include the following components:
Isothermal static helium gas sample chamber, with exchange gas introduction valve
Optical vacuum shroud and radiation shield
Gold-plated OFHC copper sample holder
Adjustable sample positioner with 8-pin and 10-pin electrical feedthroughs for thermometry and customer wiring into the sample area
Two spare electrical access ports
Evacuation valve and safety pressure relief
Four-way optical access into the sample chamber
Silicon diode thermometer and control heater
Available options
Additional electrical feedthroughs (BNC, SMA, multipin, and others)
Additional window ports
O-ring or epoxy sealed windows
Indium sealed strain relief mounted cold windows
IR and other window materials
Larger or smaller diameter sample chamber
Special sample positioners, including a double rotating sample positioner for sample rotation about the optical axis (Model SHI-950)
Non-optical configurations
Compact configurations (for use with electromagnets)
Custom configurations
Standard models include:
("X" indicates the cooling power of the refrigerator)
SHI-950-X (optical)
SHI-950T-X (non-optical)
SHI-850-X (special low-vibration design for Mössbauer)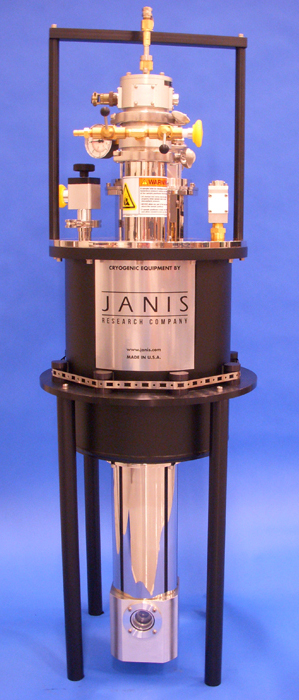 SHI-950 Series specifications
SHI-950
SHI-950-5
SHI-950T
SHI-950T-5
Temperature range
~4.5 K to 300 K
~4.5 K to 300 K
~4.0 K to 300 K
~4.5 K to 300 K
Initial cooldown time
~3.5 h to 4.5 K
~6 h to 4.5 K
~2.5 h to 4.5 K*
~6 h to 4.5 K
Sample change time
5 min
5 min
5 min
5 min
Cold head
RDK-408D2
RDK-205D
RDK-408D2
RDK-205D
Cryostat weight
~100 lb
~95 lb
~100 lb
~95 lb
Compressor cooling
Air or water
Water
Air or water
Water
*Typical. May vary with system configuration.
Other configurations
Special designs include:
Compact vacuum shroud for use with a magnet
360° aluminum or vanadium windows for neutron scattering measurements
Condensing zone for sub-2 K operation
Pulse tube-based system for FTIR
Pulse tube-based systems