Lake Shore Cryotronics is named a 2023 Top Workplaces USA award winner
02/09/2023
Winners are chosen based on feedback gathered through a survey of employees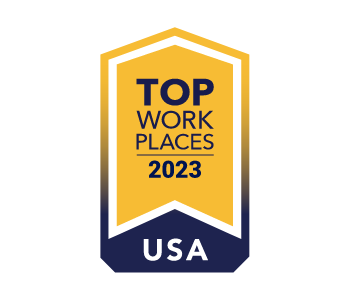 Lake Shore Cryotronics is proud to announce that it has once again been named a winner of the national Top Workplaces USA award.
This is the second time Lake Shore has earned the award celebrating organizations with 150 or more employees who have built great cultures.
More than 42,000 organizations were invited to participate in the Top Workplaces USA survey, according to Energage, the Exton, PA-based technology company behind the Top Workplaces program.
Winners of the Top Workplaces USA award are chosen based solely on employee feedback gathered through an employee engagement survey issued by Energage. Results were calculated by comparing the survey's research-based statements, including 15 culture drivers proven to predict high performance against industry benchmarks.
"We're happy to hear that our people continue to see Lake Shore as a great place to work," said Michael Swartz, Lake Shore Cryotronics President & CEO. "And we're once again very pleased to have made the list of workplaces recognized nationwide. We do our best to create a workplace culture that encourages and helps everyone realize their full potential while recognizing individual accomplishments and being flexible and supportive of their needs."
Eric Rubino, Energage CEO, said, "Earning a Top Workplaces award is a badge of honor for companies, especially because it comes authentically from their employees. That's something to be proud of. In today's market, leaders must ensure they're allowing employees to have a voice and be heard. That's paramount. Top workplaces do this, and it pays dividends."
Lake Shore strives hard to create a positive workplace culture that fosters a great work environment and builds employee loyalty. Those joining the company can expect challenging and enriching assignments and a supportive team environment. For information relating to current job openings, visit lakeshore.com/about-us/careers
About Energage
Energage is a purpose-driven technology company that powers Top Workplaces, the nation's premier employer recognition program. Analyzing data from a research-backed employee engagement survey, Energage identifies people-first Top Workplaces across the country, and regionally, in partnership with 60 of the nation's most reputable media outlets. Quarterly national awards include culture excellence and industry recognition. Energage empowers organizations to exceed the competition, evaluate their stand in the market, and engage with employees. Over 27 million employees across more than 70,000 organizations have completed the Workplace Survey, including some of the nation's leading brands.