​New product demo at Magnetics 2019: teslameters optimized for industrial use
01/15/2019
See technician-friendly test & measurement instruments in the Lake Shore Cryotronics booth, #217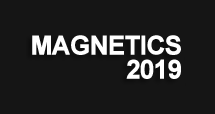 Lake Shore Cryotronics will be demonstrating the ease of use of their new F41 (single-axis) and F71 (multi-axis) teslameters in Booth 217 of next week's Magnetics 2019 expo in Orlando, FL.
These new instruments offer a new level of precision and convenience for technicians and engineers, enabling users to measure with confidence in challenging industrial QC, QA, sorting, and test applications. The teslameters and their compatible new FP Series Hall probes feature:

New TruZero™ technology that minimizes misalignment voltages, eliminating the need to re-zero a probe.
Smaller, ultra-thin active sensor areas, which ensure more accurate field readings and all but eliminate planar Hall effect errors.
An intuitive touchscreen interface and TiltView™ display, making the instruments easy to operate even when mounted in the bottom of a rack.
A compact quick-release connector with integrated calibration data, making probe swapping even easier.
Plus, for applications where the probe must be fixed to field-mappers and QC test stations, Lake Shore offers fixture-mountable probes.
Also to be discussed at Magnetics 2019: The availability of the FP Series probe sensor technology for other applications. Specifically, Lake Shore will soon be offering the unique 2Dex™ Hall sensor technology for situations where the high-performing sensors would be required in third-party equipment.
The F71/F41 teslameters and probes with 2Dex sensor technology are just the latest in highly precise magnetic measurement solutions from Lake Shore. Also available: gaussmeters, fluxmeters, and Helmholtz and search coils; and for more advanced magnetic material characterization/analysis applications: the award-winning 8600 Series VSM.