Lake Shore MeasureReady™ 155 precision current & voltage source wins R&D 100 Award
10/26/2018
Recognized as one the 'top 100 innovations of the past year' in Analytical/Test category
Lake Shore Cryotronics is pleased to announce that its MeasureReady™ 155 precision AC/DC current and voltage source has been named winner of an R&D 100 Award in the Analytical/Test category.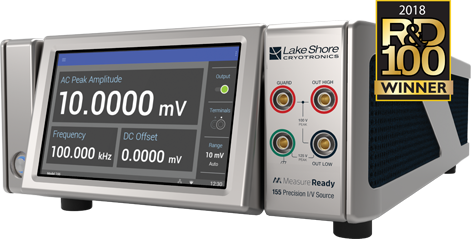 The awards recognize the top 100 innovations of the past year, with finalists chosen by an independent panel of judges representing experts in a variety of fields. Winners were announced at an awards gala held in Orlando, FL, where Lake Shore Cryotronics engineers Adam Porsch and Adam Anderson accepted the company's award.
"Congratulations to our team of engineers on winning this," said Scott Yano, Lake Shore VP of Product Development. "Receiving it represents a culmination of work that began many years ago, when we started thinking how to leverage the noise-rejection capabilities of our cryogenic instruments for other measurement applications. This dedicated AC/DC source with a modern, user-focused design is the result of our efforts."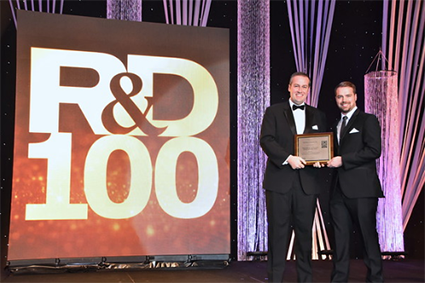 The MeasureReady™ 155 provides the precise, low-noise output needed for a wide range of scientific research, including material characterization applications where the cleaner the excitation signal, the better the end measurements. In side-by-side tests, the 155 demonstrated a cleaner output signal with a lower noise floor than other commercial sources costing far more.
It also provides DC-low noise performance without compromising AC bandwidth and features an in-phase AC reference output, which provides a convenient way to sync up with a lock-in amplifier to detect extremely low signal levels in the presence of other noise sources, a scenario common for semiconductor device measurements.
Uncommonly straightforward to operate, the source employs a touchscreen interface with icons and menus that follow smartphone technology standards, so changing settings is simple and intuitive.
Wi-Fi, USB, and LAN connectivity provide convenient integration with systems using LabVIEW™, IVI.NET, and other software. Also included: a unique mobile app, which allows users to operate the 155 source remotely, whether in the same room or farther away.