​MeasureReady™ 155 current and voltage source named R&D 100 Awards finalist
08/28/2018
Awards recognize the 100 top technology products of 2018; winners to be announced Nov. 16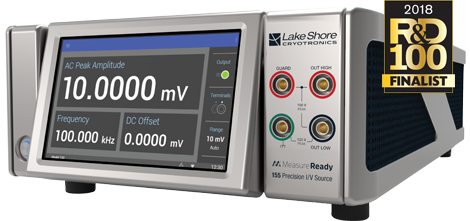 Lake Shore Cryotronics is pleased to announce that the company's MeasureReady™ 155 precision I/V source has been selected as a finalist for this year's R&D 100 Awards.
The R&D 100 Awards honor the latest and best innovations, identifying the top technology products of the past year. Finalists were selected by an independent panel of more than 50 judges representing R&D leaders in a variety of fields. Winners will be announced at an awards dinner to be held Nov. 16 in Orlando, Florida.
The MeasureReady™ 155, named a finalist in the Analytical/Test category, is an ultra-low-noise, simple-to-use AC/DC current and voltage source suitable for a wide range of material and scientific research applications. When characterizing materials, the cleaner the excitation signal, the better the end measurements. The 155 provides the precise, very low-noise output needed for such measurements, in part because it employs the same proven noise-rejection technology used in Lake Shore's industry-leading cryogenic thermometry products.
The source generates just 200 nV RMS (1 µV p-p) of low-frequency noise and 7 µV RMS of higher-frequency noise in the 10 mV DC range—all without the need to add any external filters. It also provides DC-low noise performance without compromising AC bandwidth.
Additionally, the 155 source features an in-phase AC reference output, which provides a convenient way to sync up with a lock-in amplifier to detect extremely low signal levels in the presence of other noise sources, a scenario common for semiconductor device measurements.
"I am proud to see the 155 named an R&D 100 Finalist. A lot of work went into building an instrument capable of achieving exceptional output performance in both DC and AC modes," said Scott Yano, Lake Shore VP of Product Development. "Also, while doing this, our engineers made it uncommonly straightforward to operate. We know from talking to users that a lot of buttons can be intimidating. We eliminated those buttons, employing a touchscreen interface with icons and menus that follow smartphone technology standards, so changing settings is simple and intuitive—exactly as it should be."
Wi-Fi, USB, and LAN connectivity provide convenient integration with systems using LabVIEW™, IVI.NET, and other software. Also included: a unique mobile app, which allows users to operate the 155 source remotely, whether in the same room or farther away.
For more information, visit the product page.