​Lake Shore Cryotronics celebrating 50th year as a company
05/02/2018
Company has served the needs of the worldwide research community since 1968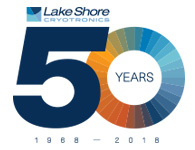 Lake Shore Cryotronics is celebrating 50 years in business this month, recognizing the people who helped it become a worldwide leader in precision measurement over a wide range of temperature and magnetic field conditions.
The company was incorporated by brothers John and David Swartz in May 1968 after John successfully built a batch of innovative cryogenic temperature sensors for Argonne National Lab in Illinois. In the early years, John was an Ohio State University electrical engineering professor and built the sensors in the kitchen of his Columbus, OH, home while David managed Lake Shore's business and sales operations in Eden, NY.
After a brief period manufacturing sensors in a space leased from F.W. Bell in Columbus, Lake Shore consolidated operations in the Columbus suburb of Westerville in 1978, moving into a building that once housed a Kroger grocery store. The company grew further, and in 1997, moved to its current Westerville location, a new 55,000-square-foot building with state-of-art metrology, production, and clean room facilities.
David Swartz left the company in 1981 and later operated a technology company in Arizona before passing away in 2016. John Swartz stepped down as President & CEO in 2004, appointing his son, Michael, his successor and daughter Karen (Swartz) Lint as Chief Operating Officer. Susan (Swartz) Ruhl, John's youngest child, is Supply Chain Manager for the company. John Swartz continues to serve as Chairman of the Board for Lake Shore and remains actively involved in product R&D for the company.
Lake Shore Cryotronics employs approximately 150 people, and over the years has expanded its product offering, introducing material characterization systems, magnetic test instruments, and precision current sources. Its product line now includes cryogenic probe stations, vibrating sample magnetometer (VSM) systems, and Hall effect measurement systems used to explore the electronic and magnetic properties of novel materials.
More than 1,800 colleges and universities worldwide use Lake Shore technology. Its products are also used in many of today's most advanced high-energy and plasma physics experiments, including the CERN Large Hadron Collider in Europe, as well as by NASA and the aerospace industry.
"In celebrating this milestone, we are pausing to show appreciation for the dedication and hard work of the employees, and customers who have been partners in our success," said Michael Swartz.
For more about Lake Shore Cryotronics and its history of advancing science, visit www.lakeshore.com.