Lake Shore Cryotronics 8600 Series VSM winner of R&D 100 Award
11/20/2017
Named 'one of the 100 most technologically significant new products' of 2017 in Analytical/Test category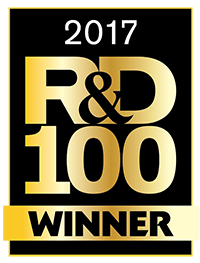 Lake Shore Cryotronics is pleased to announce that its 8600 Series VSM has been named winner of an R&D 100 Award in the Analytical/Test category.
The winners, announced Friday at an awards gala held in Orlando, FL, were selected by an independent panel of more than 50 judges representing R&D leaders in a variety of fields. Winners were recognized across five major categories, with recipients from Fortune 500 companies, federally funded research institutions, and academic and government labs.
On-hand at the ceremony to receive the award were Lake Shore's Scott Yano, VP of Product Development, and Thomas Bapu, Principal Engineer for Material Characterization Systems, who was the lead developer on the project.
The 8600 Series system raises the bar for magnetometer performance and convenience. It combines high sensitivity (25 nemu), rapid measurement speed (10 ms/pt), and simple operation in a system that enables researchers to perform more science in less time.
"Our team's goal from the beginning was to develop a next-generation VSM offering best-in-class performance and usability," said Yano. "A number of design innovations enabled our team to accomplish this, and we're now quite proud of the system being recognized by the R&D 100 Awards panel."
Featuring a clean, ergonomic design that simplifies user interaction with the system and ensures repeatable measurements, the 8600 Series particularly benefits research involving first order reversal curve (FORC) measurements, flying through complex FORC data collection sequences in a fraction of the time required on previous systems. The series is also ideal for research into low-moment materials, such as ultra-thin magnetic films, nanowire arrays and particles, dilute magnetic semiconductors, and paleomagnets.
Learn more about the 8600 Series.