​Lake Shore exhibiting THz measurement solutions at two European conferences
09/21/2016
THz characterization system, new cryogenic THz probe arm to be featured at IRMMW-THz and EuMW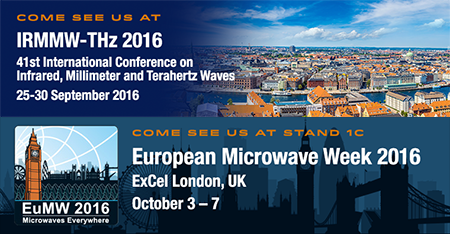 Lake Shore will showcase platforms for temperature and field-dependent, high-frequency measurements at next week's International Conference on Infrared, Millimeter, and Terahertz Waves (IRMMW-THz) in Copenhagen, Denmark and the Oct. 4 to 6 European Microwave Week (EuMW) exhibition in London.
At both events, Lake Shore will answer questions about their fully integrated Model 8501 THz-frequency spectroscopic system for material characterization as well as a new option for THz-frequency contact probing at cryogenic temperatures.
A turnkey platform for non-contact evaluation of materials with spectral responses in the THz regime, the Model 8501 features a high-field cryostat and superconducting magnet, allowing users to more easily characterize materials over a range of temperatures and field strengths. These capabilities benefit applications where spectroscopically analyzing properties of research-grade materials at temperatures as low as 5 K is important.
The Model 8501's specially developed, cryogenically stable continuous wave (CW-THz) emitter and detector devices enable 200 GHz to 1.8 THz measurements with a spectral resolution of better than 500 MHz. No special optics knowledge is required by the end user, and the intuitive system software allows for quick setup of measurement profiles.
Also, on Thursday during the IRMMW-THz conference, Lake Shore's Dr. David Daughton will be presenting results obtained using the THz system. His talk, "Photomixer-based THz Electron Magnetic Resonance Measurements," is based on a paper co-authored with Masaki Yamaguchi of TOYO Corporation (Japan) and Li Li, Jing Han, and Katsuya Inoue, all of the Center for Chiral Science, Department of Chemistry and Institute for Advanced Materials Research at Hiroshima University (Japan).
The other product of focus, Lake Shore's THz probe arm option for CPX, CPX-VF, CRX-4K, and CRX-VF probe stations, will also be discussed, with a demo unit displayed at both IRMMW-THz and EuMW. This unique contact-probing solution, designed for precise on-wafer probing of millimeter wave devices at 75 to 110 GHz and 140 to 220 GHz frequencies, enables calibrated S-parameter measurements to be performed as a function of low temperature and high field. These measurements offer specific value to researchers interested in developing new MMIC, MEMS, LNA, and THz detector device designs.
Additionally, in the Lake Shore EuMW booth (1C), the company will display a demo of their affordable liquid cryogen-cooled Model TTPX probe station. Lake Shore also offers probe station versions for cryogen-free CCR operation as well as models with integrated horizontal or vertical field magnets. In addition to the probe arm for THz-frequency probing, probe arms can be configured for DC measurements, RF probing up to 1 GHz, and/or GSG RF/microwave probing up to 40 or 67 GHz.