​Material measurement, characterization platforms focus of Lake Shore MRS exhibit
03/24/2016
Visit Booth 112 to see cryogenic probe station and THz probe arm option demonstrations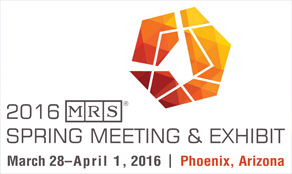 Lake Shore Cryotronics will showcase cryogenic probe station options for high-frequency measurements as well as material characterization systems at next week's MRS Spring Exhibit, March 29 – 31, in Phoenix.
For early-stage material and device research, Lake Shore offers high-performance, micro-manipulated cryogenic probe stations for on-wafer DC, RF, or microwave measurements at temperatures as low as 1.6 K and in fields to over 2 T.
In Lake Shore's MRS booth, the company will be demonstrating the interoperability of their affordable TTPX probe station with a Keysight Technologies B1500A analyzer for automated variable-temperature characterization applications, as well as the soon-to-be-released THz probe arm option. This unique contact probing solution, designed for precise on-wafer probing of millimeter wave devices at frequencies of 75 GHz and up, enables calibrated S-parameter and other high-frequency electrical measurements to be performed at cryogenic temperatures and in magnetic fields.
Lake Shore will also be discussing their:
8500 Series THz material characterization system for non-contact characterization of research-scale materials; the fully integrated system features a high-field cryostat enabling material spectroscopic response measurements across a wide range of frequencies, temperatures, and field strengths.
New 7400-S Series vibrating sample magnetometer (VSM), a workhorse system that offers fields to over 3.4 T and a 4.2 K to 1273 K temperature span for characterizing a broader range of magnetic material samples.
8400 Series Hall effect measurement system with an AC field Hall measurement option for characterizing materials with very low mobilities, including many semiconductor and electronic materials, down to 0.001 cm2/V s.
For more information, visit MRS Spring Booth 112.