​Cryogenic material characterization solutions to be focus of the Lake Shore MRS exhibit
11/23/2015
Visit Booth 501 to learn more about probe stations and THz frequency measurement solutions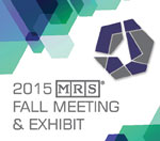 Lake Shore will be exhibiting a range of cryogenic probing and materials characterization solutions at the MRS Fall Meeting & Exhibit, Dec. 1 – 4, in Boston.
Lake Shore offers a full line of cryogenic and cryogen-free probe stations with configurations and options available for DC, RF, and microwave measurement of materials as a function of temperature and high magnetic field. These capabilities benefit early-stage device research when it is often necessary to measure smaller and fewer samples at temperatures as low as 1.6 K and in fields to over 2 T. They are especially useful in research involving TMD and graphene materials, GaN and other wide-bandgap devices, piezo and ferroelectric materials, superconducting mixers, and MEMS devices.
Representatives of the company will be on hand in Booth 501 to answer questions about these probe stations applications and will have Lake Shore's popular, entry-level TTPX probe station set up and connected to a Keysight Technologies B1500A analyzer. Lake Shore recently became a Keysight Solutions Partner, and the integrated setup at MRS is aimed at demonstrating the interoperability of the companies' respective platforms.
Also at MRS, attendees can learn about the upcoming launch of Lake Shore's unique THz probe arm option, which is designed for precise on-wafer contact probing of devices at 75 GHz and higher frequencies in a Lake Shore cryogenic probe station, as well as their:
Fully integrated 8500 Series THz materials characterization system for measuring spectroscopic responses across a range of frequencies, temperatures, and field strengths.
8400 Series Hall measurement system (HMS) with an AC field Hall measurement option for characterizing low-mobility materials, including many semiconductor and electronic materials, down to 0.001 cm2/V s.
High-sensitivity magnetometer systems (VSM/AGMs) for characterizing magnetic properties of solid, thin film, powder, and liquid samples over a 4.2 K to 1,273 K temperature range and at variable fields to <3 T.
For more information, visit Booth 501.