New Lake Shore Model 372 firmware for enhanced low temperature measurements
05/20/2015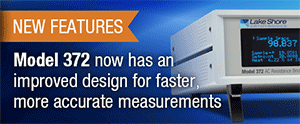 Lake Shore Cryotronics has released a Model 372 AC resistance bridge and temperature controller update that will enable more accurate measurements and increase the speed at which data can be collected by the instrument.
When introduced in 2014, the Model 372 already made it easier to reliably perform multiple tasks at very low temperatures, including temperature measurement, temperature control, and sample impedance measurements. With the latest firmware update, the instrument goes further by increasing the number of simultaneous measurements that can be made and implementing a cubic-spline interpolation method to more accurately convert resistance measurements to temperature values.
Lake Shore has added two new user-selectable AC excitation frequencies (11.6 Hz and 18.2 Hz), supplementing existing 9.8 Hz, 13.7 Hz, and 16.2 Hz frequencies. With the extra frequencies, users have even greater experiment capability in applications where measurements are required at multiple locations simultaneously.
When using three Model 372 units, for example, researchers can now run up to five measurement experiments in parallel. "In this setup, you can get excellent readings from different samples at the same time—without the risk of interference," says Ryan Oliver, Lake Shore Product Manager. "This can be particularly useful if your experiment moves quickly and you aren't given enough time to scan through separate measurement points individually."
The instrument also now uses cubic-spline interpolation, a better method for calculating temperature values with calibrated sensors. This type of interpolation ensures that first and second derivatives are continuous across the entire temperature curve. "Compared with linear interpolation, it's a more accurate way to calculate equivalent temperature values and can reduce interpolation error by as much as 0.2 mK," explains Oliver.
These latest enhancements build on the existing industry-leading capabilities of the instrument, which is ideal for ultra-low temperature applications in the sub-1 K range (when used with the appropriate sensor). The Model 372 offers:
Patented noise-rejection technology for ensuring stable, reliable measurements.
A dedicated input for continuous cryogenic temperature control that, when combined with the 3726 scanner option, allows the Model 372 to scan through other sensors within a cryogenic system.
Sample, still and warm-up heater output, plus PID control of temperature setpoints and ramp rates.
Advanced impedance measurement capabilities, including quadrature measurement for identifying reactive components of a load.
To see a video overview of the instrument's features and operation, visit the Model 372 overview page at www.lakeshore.com.