New Lake Shore software simplifies material measurements for magnetocaloric effect
04/27/2015
Uses VSM generated data to perform magnetic entropy change and refrigerant capacity calculations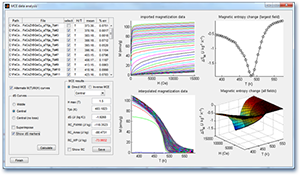 Lake Shore Cryotronics has released a software analysis program that enables researchers to quickly calculate the magnetic entropy change and refrigerant capacity of magnetocaloric effect (MCE) candidate materials from the measured isothermal M(H) and isofield M(T) magnetization curves that are recorded using Lake Shore VSMs.

Offered in a free beta trial version for new or existing Lake Shore 7400 or 7300 Series VSM users, the software simplifies the process of making MCE calculations while making it much easier to prepare the measuring protocol.
The program seamlessly imports isothermal and isofield magnetization curve data from the VSM system's data acquisition software and then, using that data, calculates relevant magnetocaloric parameters. As a result of these automated calculations, researchers can then quickly assess a candidate material for magnetic entropy change (peak values, full width at half maximum) as well as refrigerant capacity, choosing from three widely accepted definitions.
The software's introduction is part of Lake Shore's ongoing efforts to provide measurement tools aligned with the developing needs of the magnetic materials research community. It is a direct result of a collaboration with a leading academic focused on the development of magnetocaloric materials—Dr. Victorino Franco of the Condensed Matter Physics Department of Seville University (Spain).
"We're seeing a growing amount of interest in MCE related research," says Brad Dodrill, Lake Shore Senior Scientist. "Much of this is directed toward developing magnetic refrigerant technologies because when compared with conventional chemical refrigerant/heat-transfer compressor refrigerators, MCE refrigerators are expected to use considerably less energy and reduce environmental emissions. Further, we also see a need among researchers to characterize and determine the nature of magnetic phase transitions in these emergent materials. We believe this software will be helpful to these researchers, particularly because the program is able to quickly process the data needed for a complete characterization of MCE candidate materials."
For more information about the MCE analysis program and how it can be used with Lake Shore 7400 Series VSM and legacy 7300 Series VSM systems, contact Lake Shore.