Lake Shore Cryotronics named one of Top Workplaces in Central Ohio
04/14/2015
Recognized by Columbus CEO magazine and WBNS-10TV based on WorkplaceDynamics LLC survey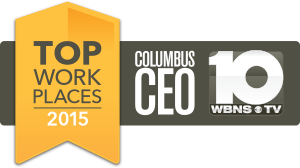 Lake Shore Cryotronics is pleased to announce that it has been selected as one of the Top Workplaces in central Ohio by Columbus CEO magazine and WBNS-10TV.
The Top Workplaces are determined based solely on employee feedback. The employee survey is conducted by WorkplaceDynamics, LLP, a leading research firm on organizational health and employee engagement. WorkplaceDynamics conducts regional Top Workplaces programs with 40 major publishing partners across the United States. Over the past year, more than 5,000 organizations and 1 in every 88 employees in the U.S. have turned to WorkplaceDynamics to better understand what's on the minds of their employees. Through its workplace improvement offerings, WorkplaceDynamics provides solutions, training, and tools to help clients improve their workplace.
Columbus CEO published the complete list of Top Workplaces recipients on its website this week and will spotlight recognized employers in its May issue. "As central Ohio businesses strive to maximize their chances for success, this year's Top Workplaces offer examples across all sectors of companies and organizations as to what comprises a positive work environment," wrote Columbus CEO. "True care and concern for employees are at the core, with strong communications and values also ranking high."
Lake Shore also received a special award based on employees saying they "feel genuinely appreciated at this company."
In addition to offering a family-friendly atmosphere, wellness programs, and frequent team-building activities, the Lake Shore leadership team attributes much of its success to hiring exceptional people and offering them challenging assignments where they have a larger role in decision-making.
"It's all about building an encouraging workplace culture," said Michael Swartz, President and CEO of Lake Shore. "We employ a number of smart people from a variety of backgrounds and disciplines, and in order for us to realize their full potential and make their work more enriching, we have enabled them to make more decisions – all of which makes for a positive work atmosphere and a stronger business for Lake Shore. I am pleased to see this has translated into our being recognized."
For more information about the Top Workplaces lists and WorkplaceDynamics, visit www.topworkplaces.com and https://www.energage.com/.