New versatile AC resistance bridge/ultra-low temperature controller available from Lake Shore
08/22/2014
Model 372 simplifies temperature measurement and precise control in ultra-low temperature environments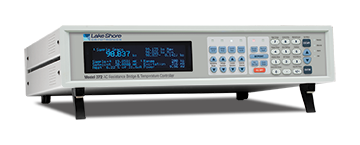 Lake Shore Cryotronics announced today that its new Model 372 AC resistance bridge and temperature controller is now available for order.
The Model 372 makes it easy to perform multiple tasks that were once very difficult to perform reliably at very low temperatures, including temperature measurement, automatic and manual temperature control, and device or sample impedance measurements. It features patented noise-rejection technology that ensures stable, reliable measurements, and a dedicated input designed specifically for continuous cryogenic temperature control.
Ideal for ultra-low temperature applications, the Model 372 is designed to minimize the amount of energy needed to take measurements. "Measuring in the sub-1 K range is far from easy," explains Ryan Oliver, Lake Shore Product Manager. "The smallest amounts of added energy can lead to self-heating and unwanted temperature shifts. But, on the Model 372, a balanced noise-rejecting AC current source with an extremely low input noise figure ensures that external signals have no path to ground through the measurement circuit. This way, no unwanted noise energy passes through the sensor."
Extremely accurate and reliable temperature measurements can be achieved by combining the Model 372 with a negative temperature coefficient (NTC) resistive temperature device (RTD), such as the Lake Shore Cernox™, Rox™, or germanium temperature sensors. Multiple calibration curves can be uploaded to the instrument, enabling instant conversion of sensor resistance to temperature.
The Model 372 can also be used for precise control in sub-100 mK dilution or adiabatic demagnetization refrigerator applications. Its dedicated control input is designed to continuously monitor the refrigerator's sample holder temperature. The 3726 scanner option can then be used to scan through other sensors within the refrigerator. The Model 372 also has three heater outputs, including sample, still, and warm-up heaters. PID control enables the setting of both fixed temperature setpoints and ramp rates, and different PID values can be set for different temperature zones within a refrigerator.
Plus, the Model 372 offers advanced impedance measurement capabilities, including quadrature measurement for identifying reactive components of a load. Also, when paired with the 3708 scanner, the input noise is further reduced to deliver even higher measurement resolutions than is possible with the Model 372 alone. This makes the Model 372/3708 combo the ideal choice for low-power cryogenic material characterization activities.
For ease of use, the Model 372 features a streamlined front-panel keypad interface, a customizable front display, and intuitive configuration and monitoring software. The instrument supports Ethernet, USB, and IEEE-488.2 connectivity, and features monitor and frequency reference outputs for direct connection to external devices or equipment.