Lake Shore to discuss low-temperature sensors and measurement solutions at EUCAS 2013
09/09/2013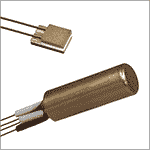 Lake Shore Cryotronics will be attending EUCAS 2013, Sept. 15 – 19 in Genova, Italy, to discuss its variable temperature and magnetic field measurement solutions for scientists working in superconductivity and industrial research.
In addition to a wide selection of temperature sensors and instruments, Lake Shore's portfolio includes probe stations, vibrating sample magnetometers (VSMs), and Hall effect and THz measurement systems for exploring the thermal, electronic, and magnetic properties of next-generation materials used in superconducting devices and circuits.
EUCAS 2013 attendees can visit booth 7 in the Magazzini del Cotone center to learn how Lake Shore products can be used for temperature-controlled characterization while investigating superconducting material properties. Lake Shore's sensor and instrumentation technologies facilitate this type of investigation. Cernox™, the company's popular line of thin-film resistance cryogenic temperature sensors, offers particular advantages to researchers requiring good sensitivity over a wide range. Plus, they feature low magnetoresistance and are best for applications with magnetic fields up to 30 T.
The company also offers a wide selection of silicon diode, germanium, and ruthenium oxide (Rox™) sensors, as well as platinum positive temperature coefficient RTDs.
Lake Shore representatives will also be on hand to discuss temperature control and monitoring solutions, including the new Model 224. The company's most capable monitor to date, the Model 224 features up to 12 independent channels. It is ideal for scientists who need to measure multiple sensors and sensor types while requiring high sensitivity for ultra-low temperatures.
Lake Shore will also be discussing its VSMs for characterizing the magnetic properties of superconducting material over a broad range of temperatures (4.2 K to 1273 K) and magnetic fields to 3.1 T, as well as Hall effect measurement systems (HMS) for measuring the Hall coefficient and resistivity of superconductors as a function of temperature (2 K to 400 K) and magnetic field to 9 T.
Lake Shore also offers probe stations that enable reliable, non-destructive and unattended measurements of electrical, electro-optical, DC, RF, and microwave properties of superconducting materials and test devices at cryogenic temperatures (1.6 K to 675 K) and under the application of magnetic fields up to 3 T. (A new, comprehensive catalog of cryogenic and cryogen-free probe station models provides guidance on choosing systems for specific applications.)
EUCAS attendees can also learn about Lake Shore's new THz characterization system, which provides for high-frequency measurements to above 1 THz, to temperatures as low as 4 K, and magnetic fields to 9 T.
EUCAS 2013 is the biennial European Conference on Applied Superconductivity, which brings together scientists and industrial researchers dealing in the materials and large-scale and electronics aspects of applied superconductivity.