Lake Shore receives Air Force STTR Phase 1 Award to advance terahertz materials characterization system
04/15/2013
The US Air Force selected Lake Shore to receive a Phase 1 STTR grant for a project that will advance THz technology for materials research
Lake Shore announced today that the company has been selected by the US Air Force to receive a Phase 1 STTR grant for a project called "Terahertz Frequency Materials Testing at Cryogenic Temperatures and in High Magnetic Fields." This project furthers Lake Shore's efforts to commercialize a THz-based system for materials research.
The development and characterization of new materials is key to next-generation electronics, energy, and aerospace research; however, while theory suggests promising results, measurement of these materials using energy frequencies in the terahertz "gap" has remained an elusive frontier. Lake Shore is working on a multi-year program to develop an electronic and magnetic materials characterization system utilizing continuous wave terahertz (CW-THz) spectroscopy. In the study of electronic materials, conventional techniques such as Hall effect measurement are widely accepted for deriving DC characteristics such as conductivity, carrier concentration, and mobility. A variable temperature, THz-based characterization method offers a non-contact tool with the potential to discover new phenomena through exploration of parameters such as the dynamic conductivity of a material.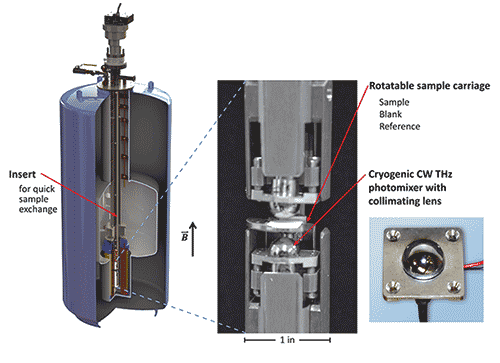 "With this Phase 1 STTR grant, Lake Shore continues its productive collaboration with the Air Force Research Laboratory," Lake Shore Engineering Manager Scott Yano said. "The prototype Lake Shore THz system is now installed in their lab, and testing with certain electronic materials is underway. This project will allow for more in-depth development of analytical tools for interpreting the CW-THz spectra."
The STTR award focuses on the development, application, and validation of the experimental methods and physical models that would deliver a new level of analysis to materials researchers. Lake Shore's principal THz investigator, Dr. David Daughton, will collaborate with materials scientists at Wright State University and the University of Arizona to develop and validate electronic material parameter extraction protocols for CW-THz spectroscopy in cryogenic and high magnetic field environments. Developed algorithms will be used to compare Hall, THz-TDS, and CW-THz measurements on known semiconductor and novel materials in order to provide a benchmark and methodology for CW-THz materials characterization.
Lake Shore recently presented a technical paper, "High-resolution terahertz spectroscopy of Sr2CrReO6 at cryogenic temperatures and high magnetic fields," at the American Physical Society March Meeting. The paper compares CW-THz measurements on epitaxial thin films of Sr2CrReO6, a double-perovskite ferrimagnet, with conventional THz time-domain spectroscopy. To learn more about Lake Shore's planned THz-based materials characterization system, visit the Lake Shore website.