Lake Shore expands online presence through social media
05/25/2012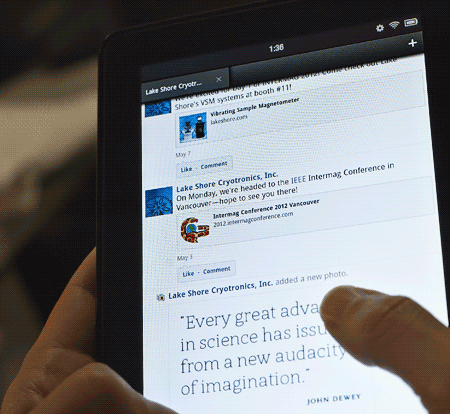 Lake Shore is pleased to announce the recent launch of its Twitter and Facebook sites. Through the use of these platforms, Lake Shore will provide frequent, engaging updates and additional information about the company's scientific staff, history, direction, and products, as well as connect with scientists, researchers and other manufacturers in their field.
The company's Twitter site provides daily access to information on Lake Shore's products and services, as well as information about new developments and discoveries. Lake Shore's Facebook page presents an active, dynamic look at the company and its products and staff through YouTube videos, timeline historical photos, and links to current events like upcoming technical conference papers, exhibits, and applications. Profiles of Lake Shore's industry-renowned scientists and engineers will enable customers to learn more about the company's technical leadership and expertise. Lake Shore's Facebook site is a handy resource for those interested in learning more about the company and its activities, including information not available on the company website. It will also allow customers another avenue through which they can connect with Lake Shore, ask questions, and pursue specific technical areas of interest in more depth.
"These new social media sites increase the opportunity for our customers to connect and communicate with Lake Shore in a timely and individually-relevant way," says Rob Ellis, Vice President of Strategic Planning at Lake Shore. "Twitter, Facebook, and similar channels are becoming increasingly important in the scientific community, and we look forward to using these sites as a means to further develop our relationships with participants in all aspects of our industry."
Lake Shore can be found on Twitter as @LakeShoreCryo and on Facebook as Lake Shore Cryotronics, Inc.