New preamp provides 2 nVRMS/√Hz noise floor
02/28/2008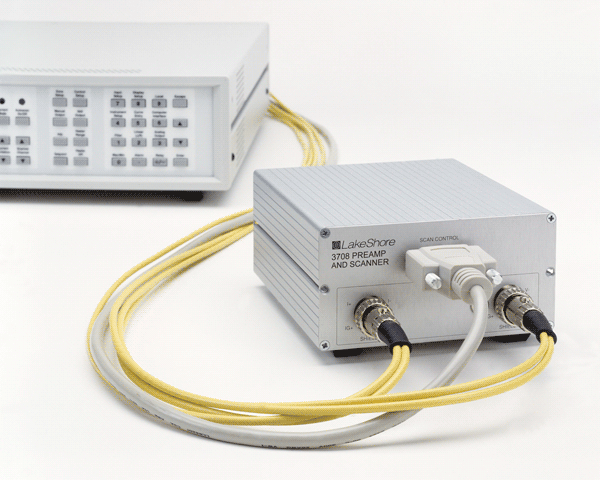 Lake Shore Cryotronics, Inc. is pleased to introduce their new Model 3708 8-channel low noise preamp/scanner for use with their industry leading Model 370 AC resistance bridge.
For many years, the Linear Research Model LR-700 AC resistance bridge has been revered as the industry standard for ultra-low noise AC resistance measurements. Since Linear Research ceased operations in 2005, there has not been a commercially available instrument able to parallel the real‑world, low noise measurement performance of the Model LR‑700. That is, until now!
Lake Shore obtained the remaining stock of field effect transistors (FETs) used in the Model LR-700 that were selected for their unique, low-voltage noise characteristics. This technology enabled them to develop the Model 3708 8-channel preamp/scanner. When combined with the exclusive design attributes of the Model 370 AC resistance bridge, the Model 3708 offers an exceptionally low voltage noise floor specification of just 2 nVRMS/√Hz — equivalent to the low noise measurement performance previously only available with the Linear Research bridge.
Lake Shore optimized the Model 3708 for ultra-low AC resistance measurement applications that demand the very best in low noise performance. You can make measurements with the Model 3708, including low voltage Hall effect measurements, that are not possible with the standalone Model 370. Additionally, unused leads are left open to allow Hall effect sequencing.
It joins the Lake Shore Model 3716L scanner, used for typical AC resistance measurements, and the original Model 3716 scanner used for ultra-low resistance thermometry applications, expanding the scope of your research potential.
For more information on the new Model 3708 preamp/scanner, please contact:
Lake Shore Cryotronics, Inc., 575 McCorkle Boulevard, Westerville OH, 43082;
Tel: (614) 891-2244; Fax: (614) 818-1600; E-mail:
info@lakeshore.com
.