New dual-channel temperature controller
05/31/2006
​Lake Shore Cryotronics expands its family of dual-channel temperature controllers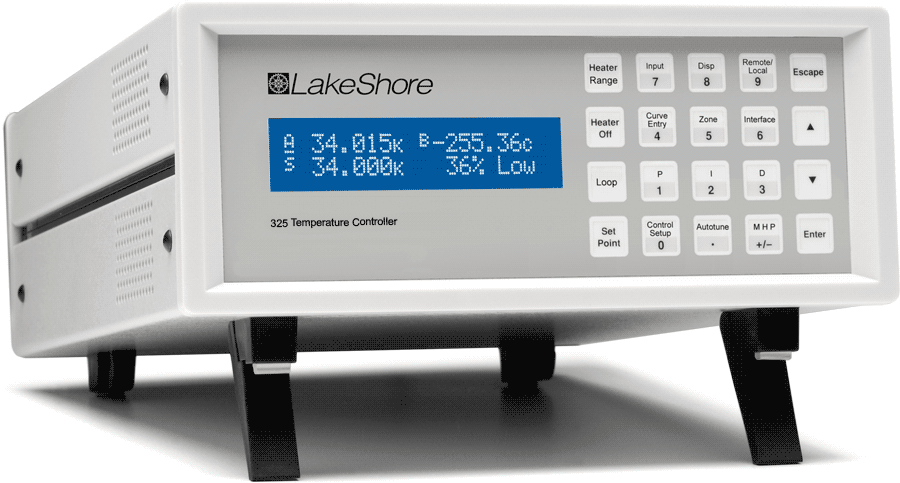 Lake Shore is pleased to introduce the Model 325 temperature controller, the latest addition to its line of dual-channel temperature controllers. The Model 325 combines versatile functionality with Lake Shore's familiar user-friendly front panel interface to provide a cost-effective general-purpose temperature measurement and control solution.
The Model 325 is capable of supporting nearly any diode, RTD, or thermocouple temperature sensor, allowing you to accurately measure and control temperatures from 1.4 K to above 1,500 K. Sensor inputs for the Model 325 are factory configured with two diode/RTD inputs. Upon request at time of order, the Model 325 can be configured with up to two thermocouple inputs. Two independent PID control loops with maximum heater outputs of 25 W and 2 W are configured to drive either a 50 W or 25 W load for optimal cryocooler control flexibility. Control Loop 2 heater output is a single-range, variable DC voltage source. When not being used for temperature control, the Loop 2 heater output can be used as a manually controlled 0 to 10 V source.
The Model 325 includes both IEEE-488 and serial (RS-232C) computer interfaces. In addition to data gathering, nearly every function of the instrument can be controlled via computer interface. Sensor curves can also be entered and manipulated through either interface using the Lake Shore curve handler software program.
For more information on the Model 325 temperature controller, contact:
Lake Shore Cryotronics, Inc., 575 McCorkle Boulevard, Westerville, OH 43082;
Tel: (614) 891-2244; Fax: (614) 818-1600; E-mail:
info@lakeshore.com
.