We appreciate your patience while we rebuild our online shopping portal. Please contact us directly to place an order.
10 K cryocoolers — Sumitomo (SHI) HC-4A1 compressor unit (air-cooled)
SHI Cryogenics Group's Zephyr™ compressor (Model HC-4A1) is an air-cooled version of their highly-reliable HC-4E1 compressor. The Zephyr™ is designed to operate with a wide variety of SHI cryocoolers and cryopumps.
Standard configuration
Key features:
Front panel access for all utilities and settings
ON and OFF buttons for local operation of the compressor and cold head
Automatic restart after power interruptions
Front panel LCD display of elapsed run time
New oil management system with a high-efficiency oil separator
30,000 h maintenance interval
Automatic relief from over pressurization
Download the HC-4A Zephyr Mechanical Drawing
Download the HC-4A Zephyr Datasheet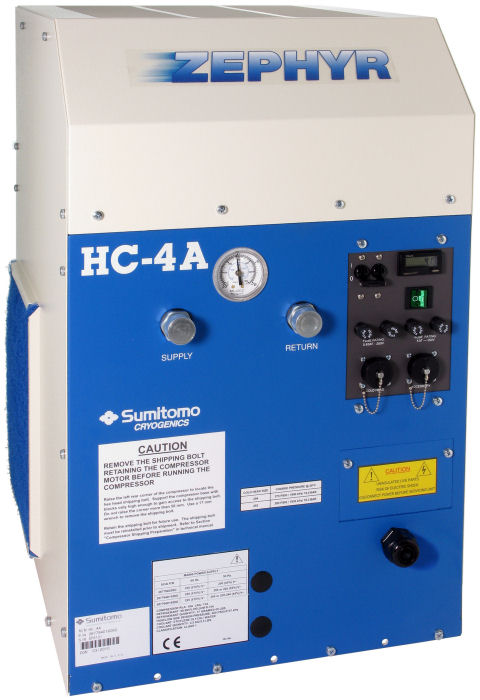 HC-4A1 specifications
Electrical specifications
200, 230/240 V~ (±5%), 50 Hz
220 V~ (±10%), 60 Hz
Power consumption and operation
3.0 kW, 15.5 A full load at 200 V~, 50 Hz
3.4 kW, 16.0 A full load at 220 V~, 60 Hz
73 A locked rotor current
Ambient temperature
4 °C to 32 °C (40 °F to 90 °F) indoor
Dimensions (H × W × D)
715 mm × 453 mm × 488 mm
28.2 in × 17.8 in × 19.2 in
Weight
102 kg (225 lb)
111 kg (245 lb) (with transformer)
Specifications are subject to change without notice.